Support for the Heirs and Crown
The Order of the Rose and the Coronaria represent decades of experience in the SCA and provide a valuable resource.
Members of the Orders offer support, historical knowledge and advice through social media groups, email lists, in person or direct communication and documentation and guides.
Final of the Crown Tourney
It has become tradition for the Order of the Rose and Coronaria to stand with the Crown Consort to support the finalists of the Crown Tournament. Each of the Roses and Coronaria hold a rose to represent the grace and courtesy that inspires their consort. As the finalists' consorts are presented to the care of the Crown, the Orders gather around to show their support, regardless of the victor
Wreaths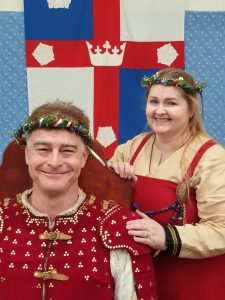 The Order of the Rose assist in preparing the wreaths for each Crown Tournament. There are 6 wreaths created (for the fighter and their consort). They are:
two wrapped in white ribbon for the Wreaths of Chivalry
two wrapped in red ribbon for the Wreaths of Valour, and
two wrapped in red, white and blue ribbon which are bestowed upon the victor of the lists and their consort.